Alcohol Free Bottle Shop & Sober Bar
About Kindred Spirits
OUR MISSION
Kindred Spirits exists to provide alternatives and a community where those who choose to be alcohol-free are valued, accepted, and supported. 
OUR WHY
We believe that everyone needs community and support. There are not very many options for the alcohol free community to find drinks that taste good, and are inclusive of specific needs.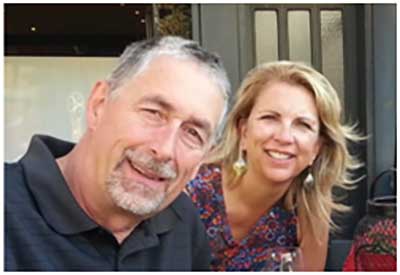 Meet Marlys & Charles Aspinwall
Kindred Spirits began from a dream of owning a small business that would make a difference in the lives of those who need alcohol-free beverages. In March of 2022, we started with a few products and a few customers. Things have rapidly been growing and as we have gotten to know our customers we see even more of the need for alcohol-free products available in our Tri-Cities community. 
We believe that everyone should have beverage options to enjoy that support their choice to moderate or remove alcohol from their life. Kindred Spirits exists to provide a variety of alcohol-free beverages and to bring a community together in support of sobriety. Our goal is to help anyone who is looking for beverages so they can enjoy socializing and connecting with friends and family without alcohol. 
It's important that we create more space and love in our community for those who wish to live alcohol-free. Our goal is that with Kindred Spirits you will find support and love for being who you are. And that you can find beverages to enjoy that help you to live according to your own needs and wants.
Pathway to an Easier Life
At Kindred Spirits, we provide alcohol-free options so that you can have and enjoy drinks with friends and family, and enjoy your time and the taste without the alcohol. 
We know many people have lots of reasons for limiting alcohol, and we are here to give you options to make that choice easier, and more enjoyable. 
Variety of Sober Alternatives That Taste Great
Regardless of your reason for being sober, we believe it's our job to help you find something that you can savor. So when you go to a girls' night out, you don't feel left out or misunderstood. When you sit back to enjoy your favorite drink in the evening you can keep your commitment to yourself to stay sober. 
We are here to find alternatives that taste great and satisfy your pallet. So you can enjoy your charcuterie, or your cheese and wine, all alcohol-free. 
At Kindred Spirits, we have a variety of options available to taste and try. We want you to be able to find something you enjoy. Finding alcohol-free or zero-proof beverages can be difficult but with our wide variety and the option to taste different flavors, you are bound to find something you like.
Being alcohol-free doesn't have to be anything you are ashamed of. We are here to listen, support, and cheer you on. 
We are not here to judge you, shame you, or make you feel guilty. At Kindred Spirits, we want you to feel comfortable sharing your journey, knowing that you can just be you.  
If you are someone that does drink alcohol and you are looking to moderate, there's no judgment here. Ultimately, we want to help you and meet you wherever you are on your journey. 
Make it Easy to Get What You Need
Our full inventory is available at our location in Richland, and it's available online. 
Not only will you be able to find our products, but our goal is that you will be able to find community, support, and resources to enjoy and live your alcohol-free life. 
You are not alone, and we are here to help you celebrate sobriety. We believe in you and are grateful for the chance to provide products and support that make it easy for you to get what you need.
After years of over indulging, we realized that when we drank alcohol we became people we didn't want to be. Over time, we realized that we weren't being who God made us to be. When we drank alcohol we changed who we were based on the situations around us, we were unhappy, and we felt stuck in a hamster wheel. 
When we made the choice to become sober ourselves, we realized that by doing so and creating Kindred Spirits we have the ability to support others in their purpose and living an authentic full life. 
We live our purpose every day to be open, to love others, and to help others find their God-given purpose. We are here to support you in being you. 

Mocktails and alcohol-free wine: Tri-Cities first sober bar opens in Richland
Store Hours
Sunday & Monday: Closed
Tuesday - Thursday: 11 am - 6 pm
Friday & Saturday: 11 am - 8:00 pm
Address
430 George Washington Way, Richland, WA
Right across from Wakeup Call Coffee (formerly Black Rock Coffee) on George WA Way, Richland.
Extra parking is available at Wake Up Call Coffee and the Windemere Building.