Special Events & Catering
Kindred Spirits is here to bring a wide variety of Alcohol Free Adult Beverages to your special event, wedding, corporate event, or get together.
Help your guests enjoy more than a soda, they can enjoy a mocktail that tastes like a cocktail without the guilt, alcohol, or stress.
Options for Your Event No Matter The Size
10 – 500+  Ask Us About Our Large Group Discount.
We can help you pick out the perfect recipes and beverages to complement your meal, and for your guests to enjoy. 
We can teach you how to mix them yourself or refer you to a AF Bar Tender. 
Non-Profit Fundraising Dinners
Why Serve Alcohol-Free Beverages at Your Special Event
Having alcohol-free options beyond the traditional flavored seltzer water or soda can enhance the experience of your guests, without compromising on flavor.
Combining our alcohol-free options with the right ingredients provides AF versions of the most popular drinks including:
Rose Wine
Mojito's with AF Rum
Moscow Mule with AF Vodka
Mimosas with AF Champagne
Manhattan with AF Bourbon & Vermouth
Margarita with AF Tequilla
Old Fashion with AF Bourbon
And so much more!
We even have bitters that make creating AF beverages and drinks easy, so that everyone has a drink to enjoy!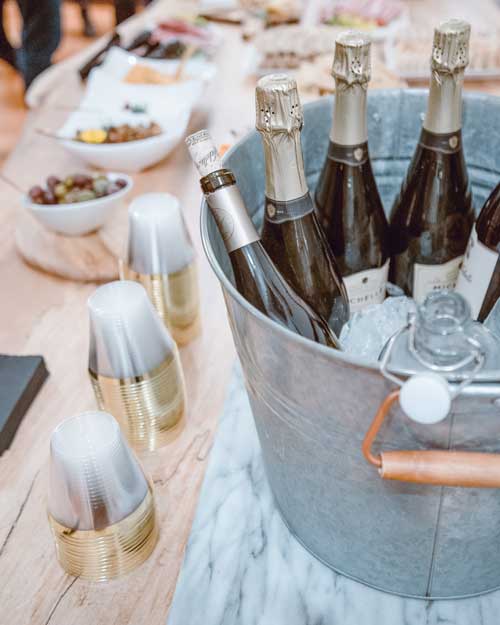 Whatever Type of Drink You Want to Have Available at Your Special Event, We are Here to Help!
Other Local Vendors That Can Help with Your Special Event
Wild Olives Charcutier Kingdom
Rosegold Photography
Contact: Kimberly Johnson
Arlene's Floral
Contact: Kim Solheim
BA Entertainment TC
Contact: Justin Bazinet
Camerazzi Photo Booth
Contact: Justin Bazinet
Layered Cake Artistry
Contact: Elena Gavin
Store Hours
Sunday & Monday: Closed
Tuesday - Thursday: 11 am - 6 pm
Friday & Saturday: 11 am - 8:00 pm
Address
430 George Washington Way, Richland, WA
Right across from Wakeup Call Coffee (formerly Black Rock Coffee) on George WA Way, Richland.
Extra parking is available at Wake Up Call Coffee and the Windemere Building.